I like playing games, and it's great to play games about my hobby: KPOP, especially BTS.
In recent years, when I search for the keyword "BTS game", I get a large number of results, but most of them make me disappointed… Some games just borrowed BTS images for an unrelated gameplay… Some games have too little fun and too many technical bugs…
That's why I write this review to share with you the games I have found and experienced! Hope you will find some fun with them too!
Please notice that I'm not a pro gamer! I'm just an A.R.M.Y (my bias is Taehyung) who like playing game.
Honorable mention: SuperStar BTS
Let me begin this list with a game that is discontinued! Unfortunately! It's one of my favorites…
SuperStar BTS was a rhythm game developed by Dalcomsoft Inc. featuring songs by BTS which was launched on Apple Store and Google Play in 2018. In it's lifetime, the game was available in South Korea, Indonesia, United States, South America and Japan.
(I'm not in any of these countries, so I had to find a hacky way to get it…)
The game featured more than 100 songs by BTS and was a score-based, note-matching music game. Players had to form their own equip of seven cards (one per each member) or three cards (only in Hope World album) and mix and match the cards with the themes as they wish or use the game's auto function to automatically create a equip. Each album had is own theme cards and some of it had limited cards.
In 2 years, SuperStar BTS has been downloaded over 10 million times by fans in available countries Sadly, in June 2020, SuperStar BTS announced that it will be ending its service
No. 5: Magic Tiles 3: Piano Game
Well, this's not a game all about BTS, but it has a lot of BTS content pack to get and play.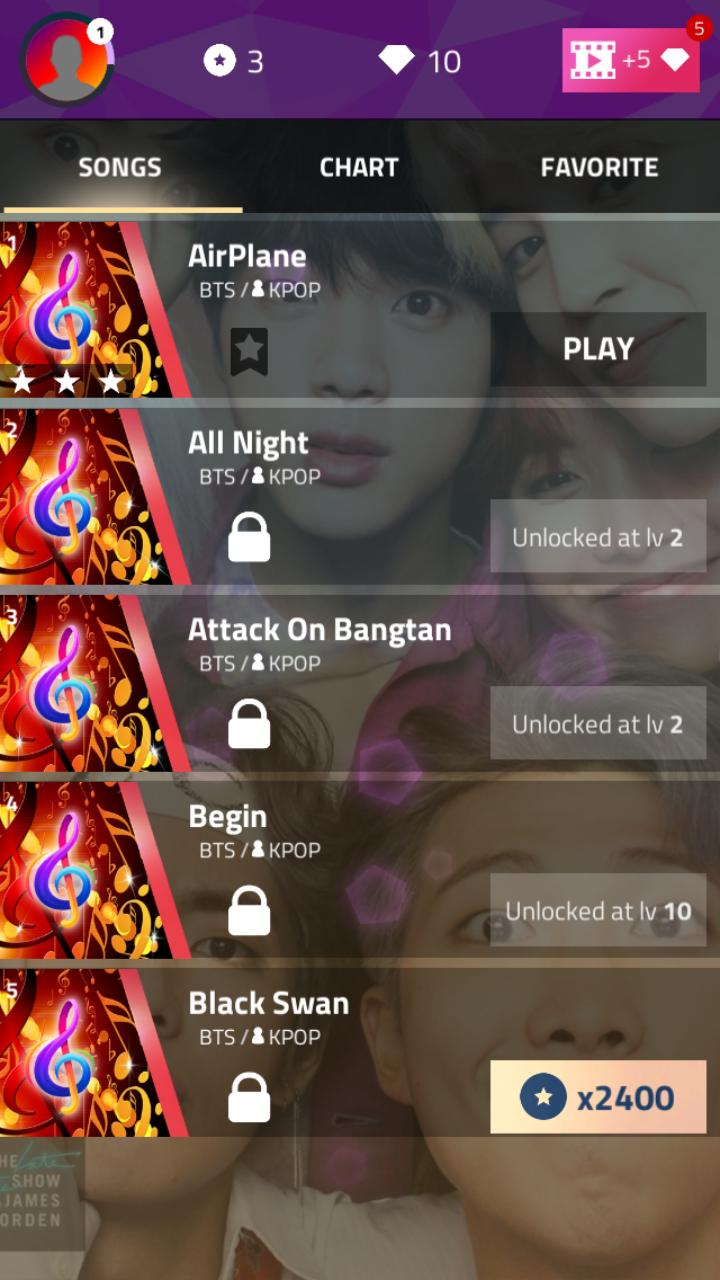 The game play of piano tiles game genre is simple: Tap the black tiles (best at it's drop beat), avoid the white tiles, expect to speed up with each song level.
The key to making this game good is the creator's "musical sense". When the notes are precisely placed in the beats, with the right tempo and flexible transposition; You get the feeling you're really "PLAYing" the song – the best experience a rhythm game can bring.
Adding to it's core value, features like Online battle and Weekly tournament are really good.
Here are link to get the game:
iOS – https://apps.apple.com/us/app/magic-tiles-3-piano-game/id1443446174
Android – https://play.google.com/store/apps/details?id=com.youmusic.magictiles
No. 4 : ARMY Quest: BTS ERAs
The next game on the list is a unpopular one… It's fun digging to find a good game that few people know about…
The key point that makes me appreciate this game is that it is very meaningful to ARMYs
(and even BTS members, if one day they find out and decide to try it out …)
(… but of course it's impossible, because if Big Hit finds cool games made by fans like this, they will immediately block it !!! …)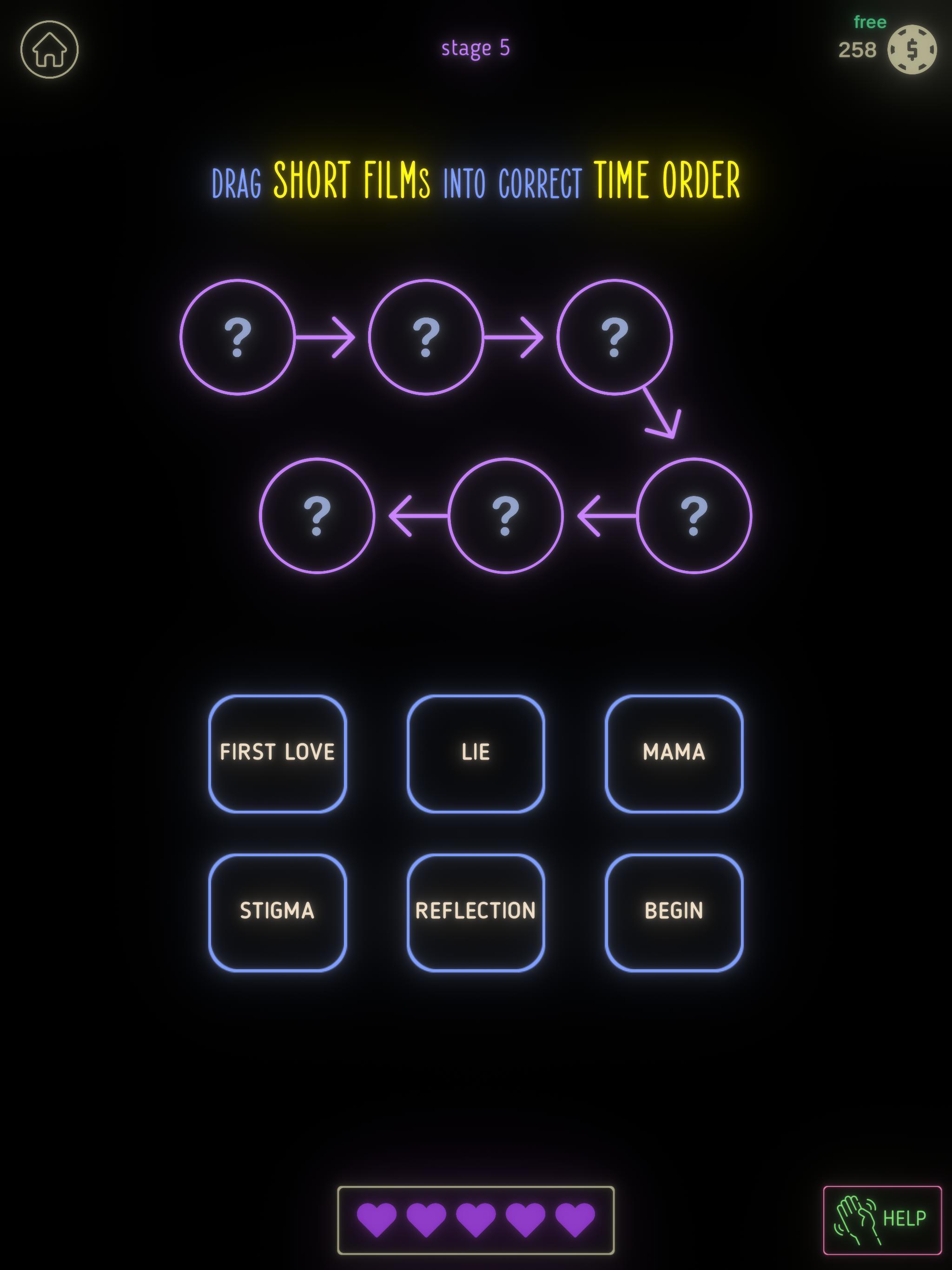 As its name, the game will bring back the time to relive unforgettable moments of our guys!
Do you remember when Jimin, Taehyung and Jungkook distributed free concert tickets in LA? Or the legendary battle with BTOB at MAMA 2014?… Through mini games, pictures or quizzes, those unforgettable moments will be reminded!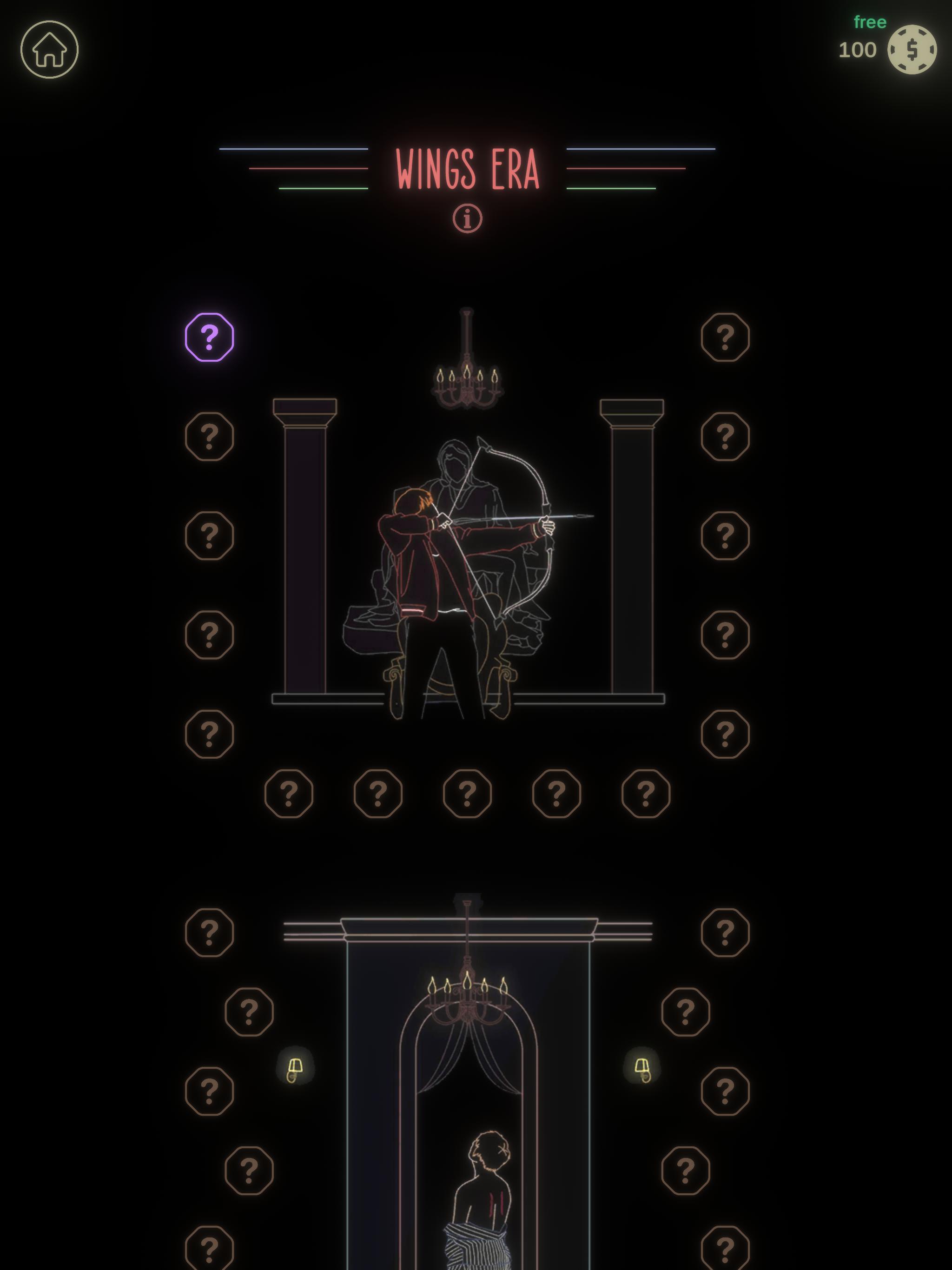 About gameplay, the game includes the ERAs we already know: School Era, Youth Era, Wings Era, Love Yourself. Each ERA consists of many levels. Each level is a milestone in BTS's career, chronologically; challenge you with a mini-game. The list of mini games I have tested is as follows:
1. Reorder discography, short films …
2. Drag and drop the name on the correct member (Faces are coverd! Some pictures are easy to guess based on their hairstyle or body shape, but there are also some pictures that I have to find it on Internet to make sure members position)
3. Find the differences between the 2 pictures.
4. Guess MV – A photo that captures a moment of the MV blocked by small tiles. You will choose to remove the three tiles and guess which MV it is.
5. Memorize – you will have 15 seconds to view an old photo of BTS. Then you'll have to recall and answer questions about that photo, like what hairstyle J-Hope has, where was Suga …
6. Multiple choice quizzes – Most of the questions do not make it difficult for ARMY. However, there are some pretty difficult questions, like "This fandom curse Jungkook by an image of his portrait mounted on a funeral wreathe …" 7. Guess a song belongs to that ERA.
In summary: An interesting game, extremely meaningful to ARMY. The duration is a bit short for me, hopefully the author will update it soon.
Here is the download link for you:
📱 For Android: https://play.google.com/store/apps/details?id=com.ninhkidd.btsera
📱 For iPhone / iPAD: https://apps.apple.com/us/app/id1521598132
No. 3: BTS Universe Story
Yes, the official game from Big Hit and Netmarble…
To be frank, BTS Universe Story wasn't at all what we and many other players quite expected. When the cheery intro video gave way to a promising prologue in which the different members met tragic ends. These ends were either by suicide, fire, imprisonment and getting locked up in a psychiatric ward. We had to rewatch it, again and again, to make sure it didn't drive us crazy…
What possessed Netmarble to write such a deeply tragic plot is beyond us, and we can only imagine that it's going to traumatize the younger members of the enormous BTS fan base.
Most especially when you consider that it draws inspiration from the likes of Groundhog Day, and Majora's Mask, with you having to repeatedly watch your favorite member die a tragic death that's kind of your fault because you made a single wrong decision.
The game grants players the liberty to choose their own adventure, in that aspect it is similar to the likes of Life is Strange, 1979 Revolution, or the Telltale games.
It plays out as a series of cutscenes that occasionally provide you with a decision to make. If you choose the right decisions, and you get a good ending, in which everything magically works out. But choosing the wrong one, however, then you're going to have to watch the horrific events play out time and time again.
The game just goes way beyond what you can expect of an average mobile game delivering a massive K-pop boyband experience. I couldn't hold back my positive commendations in that aspect.
Netmarble made sure that what could have been a simple piece of fan-service is actually an adventure that anyone can enjoy, due to the sheer silliness it brings. From the almost post-apocalyptic plot to the excellent visuals, there's just a bunch of stuff to love in the game.
Putting together your own story is simple enough, with a really straightforward interface that players of all ages can use. Similarly, playing another story is really easy, with a nice list to scroll through. You'll need a ticket to actually play another player's episode, but these are relatively cheap, and you can come across plenty of them by playing for free.
Your progression is tied to your 'Creator Rank', which increases as your stories receive views and likes, just like in the real world of influencers. You're going to be hard-pressed to create stories as awe-inducing as the main batch though, so be aware of that.
We can't help but recommend BTS Universe Story to literally everyone. It's not often that you come across something so compellingly, and we can't encourage you enough to download it just to experience the main story.
However, the story creation tool is so easy to use that you may end up sticking around to create your own, increasing your Creator Rank in the process. Just do yourself a favor and grab it right now on the respective App stores. You're in for quite an adventure.
Here is the download link for you: https://btsuniversestory.netmarble.com/en/
No. 2: BTS World
Another official game, BTS World is a storytelling sim game. The player comes in as an employee of the Big Hit company and is tasked with managing the band. This interesting concept is along the lines of a standard life sim game, but the fun part is that it presents real-life artists.
The game sees the player take on the role of BTS' manager, charged with navigating the band into its career-making deal with Big Hit, over two different gaming modes. Big Hit has put a lot of thought into the game's main storyline, BTS Story – as well as the individual storylines in Another Story that focus on what each member would have done, had they not become K-pop stars.
For example: At the outset Jungkook tries to bring new life into the school's taekwondo club, hapless city boy V returns to the countryside, Jimin is juggling his grandmother's rice cake shop and dance, RM is a genius college student/detective, and Mr "Worldwide Handsome" Jin is slogging it out in a hotel.
The players are working under the guise of an agency, which is your main interface where you check your daily itinerary, missions, manage band members, check conditions, and other stuff. The players can complete scheduled tasks and manage the singers to ensure their top performance, which will ensure the highest scores after mission completion.
In BTS Story, you're sent back to 2012 before the band debuted, and you begin the process of convincing each member to sign with Big Hit. There's some serious nostalgia for ARMYs who have been there since the beginning – it was cute seeing the boys in their debut No More Dream outfits, albeit with better hair.
In both the BTS Story and Another Story there are video chapters, text messages, video calls and multiple choice answers, that collectively bring to mind otome games, rather than the idea that I'm supposed to be a serious manager (and professional). The dialogue is often flirty, which made me slightly uncomfortable – I just want to make them successful, not date them, honest!
That being said, a certain amount of fan service is definitely appreciated, whether it's a video of the boys surprising you with cake, or personal texts.
About gameplay, it's basically a card game, whereby all aspiring "managers" must collect as many cards of the members as possible. Cards are ranked from one to five stars, with different stats for empathy, passion, stamina and wisdom. To level up a card you need to clear missions, which give you coins, flowers and special items to help manage a member's condition when doing agency-specific tasks. Clearing certain card levels unlocks special surprises – such as phone calls, individual and group texts, and social media posts.
As expected, missions get harder and harder to clear; you need certain cards, and to get those cards, you'll either have to farm at least 80 puzzle pieces from Another Story missions, or use gems and coins to randomly draw out cards. Cards can also be exchanged for flowers, "DNA" and member-specific gems, which are used to upgrade the cards.
You get one free draw for the three to five star cards, and one to three star cards a day, but unless you want to progress at the rate of a half-squashed slug, you'll have to pay for premiums.
There's also the chance to fill out the photo album by collecting various cards, which are used to unlock exclusive pictures and videos of the members (although you can find most of these online now).
It took me just under a week of fulfilling the daily mission, farming flowers and completing various agency tasks to get past level 6-15. It's not for everyone – my friends list has dwindled from 20 active players to six.
Another complaint I've heard is that your decisions in the game make no real difference – the band will debut, eventually (assuming you finish the game). The only real implication is the level of affinity with each member, which affects Another Story more than BTS Story.
Verdict: ARMYs will love it. Absolutely! Definitely! 100%!
Link to get the game: https://btsw.netmarble.com/en/home
No. 1 : A.R.M.Y game
Finally, we comes to the end of this list. And please don't hate me for this: The best game I pick is not an official game… It's a fan game. Yep!
As a fan-made game, it obviously can't compete with the products of the big companies when compared with the graphics, exclusive content or aggressive advertising campaigns.
So what makes me rate this game so high?
In short: the variety of gameplay and the love for BTS.
7 members of BTS host 7 categories. First, of course, is RM. In RM's area, we'll get daily quests and weekly challenges. (Just like a team leader's duty!)
One great thing RM has to offer is that every time you complete a task or challenge, you'll be rewarded with a stunning image designed to be used as a wallpaper/screen lock.
Jungkook is the host of 'Art' – an area of unique music games, with quizzes featuring BTS songs.
J-Hope is the host of 'Action' – the area of action mini games, with easy to grasp and attractive gameplay.
Taehyung hosts the 'Puzzle' area – with level-based games, questions are pictures, memories, moments, MVs…
Jimin hosts the hosting area – where you and other ARMYs vote for the best song, the best MV, or the best picture of each member… through the special form 'Tournament voting'
I've been playing this game for 3 years, and it's fun to see the game evolving and upgrading over the years, as if catching up with ARMY's love for BTS.
Here is the download link for you:
📱 For iPhone / iPAD: https://itunes.apple.com/app/id1080889409
📱 For Android: https://play.google.com/store/apps/details?id=com.kpophit.armybtsgame
And that's my Top 5 games for BTS ARMY. Happy to be shared with you! Hope you will also have a lot of fun playing these games!
AUTHOR: An Mika
🏵💮🌼 Kpop Hit – share the Kpop vibes 🌼💮🏵
💜💜💜 An UNBELIEVABLE FUN GAME for BTS: A.R.M.Y Quest 💜💜💜
📱 For iPhone / iPAD: https://apps.apple.com/us/app/army-quest-into-bts-universe/id1480503654
📱 For Android: https://play.google.com/store/apps/details?id=com.ninhkidd.armyquest