Ahh, the Golden Era of K-pop. It was a time when the Hallyu Wave did not include the words "Gangnam Style," and we all knew the choreo to Rain's "Love Song."
Fortunally, we have this game: Kpop Golden Age – to me it's really an amazing game to recall all the wonderful things from that time. The time range for the content (bands, idols, music, mv…) of the game is from 2003 to 2013. That's mean you'll find legends: TVXQ, Wonder Girls, 2AM, 2PM, MBLAQ,… and all time hits like Mirotic, Fantastic Baby, Nobody, Ring Ding Dong… Wow, I almost cry when think about those awesome songs.
You can play the game on phone platform, include iPhone, iPad and Android phone. Don't miss it, especially if you're a veteran Kpop fan like me.
There're a lot of fun are waiting for you to explore and I will not steal it by spoil, just show you some screen shots.
Now what? I'll tell you the top seven things we miss about the Golden Age of K-pop.
1. All your favorite groups were actually whole
… and no, I'm not talking about EXO.
I mean THESE LEGENDS:
TVXQ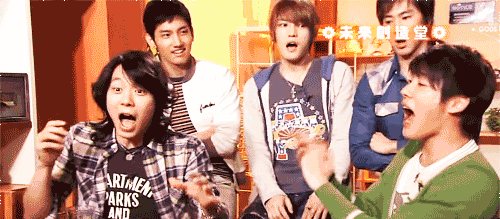 Girls' Generation
Super Junior
2PM
2. The closeness between K-pop groups
This one is harder to explain, but nowadays, there doesn't really seem to be a closeness between the newer K-pop groups. Of course, K-pop idols obviously have friends in other groups, but you don't really get that familial atmosphere of the past. These days there are shows specifically about friendships like "Celebrity Bromance," when before we had shows like "Invincible Youth," "Family Outing," etc. that were enough. Not to mention, in the Golden Era, different groups collaborated — and made HILARIOUS covers (practically all the time) — no matter if they were YG or SM or JYP.
Boys Generation and Wonder Boys anyone? These were legendary.
(On a random side note: I really miss "X-Man." And "Come to Play." And the old "Happy Together." And "Oh! My School." The newer variety shows don't feel as… homey? There was a different feel to variety shows back then.)3. When these songs were SLAYING the charts:
Wonder Girls' "Nobody"
TVXQ's "Mirotic"
Rain's "Love Song"
T-ARA's "Bo Peep Bo Peep"
BIGBANG's "Haru Haru," Lee Hyori's "U Go Girl," Brown Eyed Girls' "Abracadabra" … to name a few.
("Nobody" is eight years old this year. And for T-ARA's "Bo Peep Bo Peep," do you all remember that stage where 2PM's Jun. K made a cameo? DUDE I feel OLD.)4. When you were DYING to be the fan club president of your favorite group's fan club
We are her, and she is us. Don't deny it.
These days, with the popularity of Twitter and Instagram in Korea – you international fans today don't know how lucky you are — it's so much easier to interact with idols. BUT I would argue it's a lot less personal (there were a TON of perks if you were the fan club president, like being able to talk with the company to arrange fan events. Not too sure if this still holds true nowadays).5. When there wasn't a new group debuting every week
Nowadays everyone, everyone's friend, uncle, mom, cat (not complaining about this one though), and grandma are debuting. I mean, it's calmed down since the Debut Chaos of 2012 (when I temporarily left the K-pop scene… only to come back to fifty thousand new groups), but still, they seem to keep coming.6. Drama parodies!
Who could forget the legendary BIGBANG "Secret Garden"?? (DAESUNG WAS ABSOLUTELY FABULOUS.)
Ok, this one I could understand why. There hasn't really been a drama in the recent years that's had meme- or parody-worthy moments. ("Descendants of the Sun" had its cute moments, but it isn't exactly a meme-ful drama…)
…Doesn't mean we miss it any less.